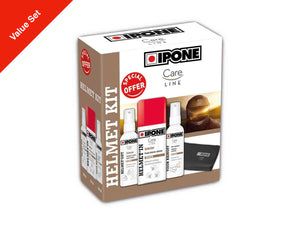 Ipone Helmet Kit includes:
-Helmet'in (150ml)
Cleans and remove odor and bacteria from the inner padding of your helmet. Leaving a fresh smell.
-Helmet'out (100ml)
Cleans the exterior of your helmet from road dirt and insects. Suitable for both glossy and matte helmets.
-Visor Rainoff (100ml)
Repels rain drops from your visor, hence improving your visibility during raining weather conditions.
-Micro-Fiber Cloth
Soft micro-fiber cloth, ideal for use with Ipone Helmet Care products.