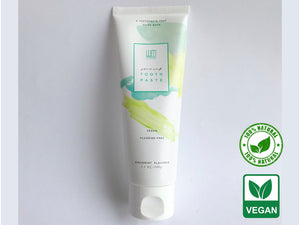 A Spearmint flavored, Vegan, All Natural Toothpaste that Gives Back!
25 All Natural Ingredients

Dentist Developed and EWG VERIFIED™

No Yucky Stuff!

Safe for All

10% of profit for children's education for a Brighter Future!

Vegan & Cruelty Free

PETA registered

Vegan Society registered

Eco-Friendly Packaging (FSC)

Palm-Free

Non-GMO 
Do you know what your toothpaste is made of??
You've never seen a toothpaste like this before. WITH MY Spearmint Toothpaste is made with 25 All Natural Ingredients--all of which we PROUDLY and openly list: Green Tea Extract, Organic Calendula Extract, Menthol, Spearmint Oil, Tea Tree Oil, Eucalyptus Oil, Hinoki Oil, Quince Extract, Sesame Leaf Extract, Baking Soda, Organic Rosemary Extract, Chamomile Extract, Licorice Extract, Mugwort Extract, Mastic Oil, Peony Root Extract, Pomegranate Extract, Hydrated Silica, Tocopheryl Acetate (Vitamin E), Sorbitol, Cellulose Gum, Xylitol, Stevioside, Sodium Methyl Cocoyl Taurate (from Coconut), Water
Founded and developed with professional knowledge by a dentist, WITH MY is one of the handful of toothpaste brands verified by EWG. 
The Yucky Stuff that's NOT in WITH MY toothpaste: Sodium Lauryl Sulfate, Sodium Laureth Sulfate, Triclosan, Saccharin, Microbead, PEG, Artificial Colors, Artificial flavors, Animal Ingredients, Methylisothiazalinone, Chloromethylisothiazalinone, and others that our founder would forever keep away!
This makes WITH MY Spearmint Toothpaste perfect for both children and adults alike.
Speaking of children, 10% of our profit is used for children's oral care and education. We provide toothpastes, dental knowledge, scholarships, and support school building projects.
Lastly, in order to provide our children with a brighter future, we must think about our environment. WITH MY is a Cruelty-free and Vegan company as registered with PETA and the Vegan Society. And we use eco-friendly packaging material such as FSC certified forest-friendly paper for our case.